Announcing Design Decisions
When we talk with community members about their wants, needs, and dreams for their libraries, we consistently hear this: people in Saint Paul want libraries that are safe, inviting, affirming, and comfortable for people of all cultures, abilities, and communities.
Community members have helped us create design directions for Hamline Midway, Hayden Heights, and Riverview libraries that will transform these well-used, well-loved, and well-worn buildings into community gathering spaces to meet the needs of our community members now, and for the next generation.
The directions focus on maximizing accessibility, environmental sustainability, safety, and transformative equity in design. Each of the designs is distinctive, reflecting the uniqueness of the neighborhoods served by each of these libraries.
Read full pre-design reports from LSE Architects for Hamline Midway, Hayden Heights, and Riverview.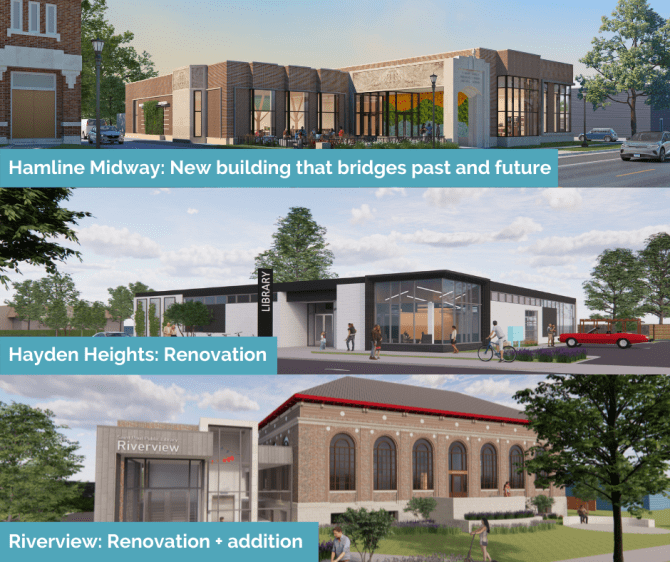 Upcoming engagement opportunities
Now that design directions have been established, the design process will continue throughout the summer as the plans for each library are refined to meet the needs of the community. From local artist-led Creative Encounters to community meetings and surveys, there will be several opportunities for people to engage and share their voice.
Sign up for the Transforming Libraries newsletter to hear about future opportunities.
Creative Encounters
Draw, doodle, and dream about your future library!
June 11 - August 31
Stop by the Hamline Midway, Hayden Heights, or Riverview library to dream up your future library with an interactive art installation by the Artist Cohort, part of the community engagement team.
Community Engagement to Co-Create Schematic Designs
Co-create with us! As we launch into the next phase of building a vision for libraries in Saint Paul, we are excited to build upon insights, wants, needs, and dreams of community members that we have heard over the past few years.
To create community-informed schematic designs for Hayden Heights, Hamline Midway, and Riverview, we have designed an equity-centered community engagement process with our design partner, LSE. As we all create the future of these libraries together, we seek to ensure that historically excluded perspectives and communities are at the center of this work. This includes young people, BIPOC communities, people who identify as trans or non-binary, and people with disabilities.
Sign up for our newsletter to hear about opportunities and dates.
Ways to Get Involved
Surveys
There will be progressive surveys for community members to participate in to provide input and react to designs. Surveys will be available online and paper surveys will be available at Hamline Midway, Hayden Heights, and Riverview libraries.
Community Open House Meetings
All community members will have opportunities to stay involved through progressive open houses (virtual and possibly in-person). Community members will be able to stay informed, provide feedback on analysis and alternatives, and have their concerns and aspirations reflected in the alternatives that are developed.
Listening Sessions
Separate listening sessions for Hamline Midway, Hayden Heights, and Riverview will be offered in-person at each library location. Community members are invited to stop by to engage with designers and architects from LSE along with library leaders to share ideas, ask questions, and learn more about the project.
Additional Community Engagement
Artist Advisory Cohort + Creative Encounters
Led by experienced public art curator and community organizer Tricia Heuring, the Artist Advisory Cohort is a creative approach to community engagement.
The Artist Advisory Cohort will conduct creative engagement sessions in the neighborhoods of Hamline Midway, Hayden Heights, and Riverview libraries to gather community members' feedback. They will use their experience as Saint Paul artists and community members to inspire dialogue with the community about the future of libraries as cultural hubs. More specifically, they will use their skills in curiosity and creativity as artists to identify points of relevance—whether tensions, connections, or opportunities—and develop creative community engagements, or encounters, for further public conversation (perhaps through a pop-up or by attending a community event).
The Artist Advisory Cohort includes:
Library Design Project Ambassadors
The Library Design Project Ambassador group includes selected individuals representing neighbors or other stakeholders of the three focus libraries: Hamline Midway, Hayden Heights, and Riverview. It is comprised of neighborhood groups, associations, community organizations, City representatives, and youth leadership teens. As representatives from these areas, they meet monthly to get updates to share with the community and bring to us concerns they are hearing from their constituents or neighborhood groups.
The project ambassadors group helps ensure key community stakeholders have opportunities for regular informational updates, opportunities to bring forward feedback and questions, and feel confident serving as information ambassadors for the library design work underway in their neighborhoods. It is comprised of members who represent neighborhood groups, associations, community organizations, and the youth experience.
Meeting Schedule, Materials and Members
If you would like to connect us to a community publication, organization, or group to help ensure we are reaching all community members, including historically excluded perspectives and communities, please contact Marika Staloch at marika.staloch@ci.stpaul.mn.us.
Community members are showing up to shape their libraries. 
3,000 people participated in the Strategic Direction process in 2018-19
1,680 people completed surveys and 110 people participated in neighborhood forums on library facilities wants and needs to inform the Facilities Direction in 2019
35+ letters and testimonials were shared with City leaders as part of the Capital Investment Budget process in 2021
47 youth shared their desires for library buildings at youth-led youth engagement events in 2021
623 people attended and/or provided feedback at community open houses and listening sessions
1,273 people completed a survey online and at pop-up events to inform the design directions for Hamline Midway, Hayden Heights, and Riverview libraries in 2022
Updated July 20,2022
2021
Secured funding for design work for Hayden Heights renovation and a limited number of additional mechanical, electrical and plumbing (MEP) system upgrades.
Held neighborhood forum focused on the options for Hamline Midway Library that emerged from 2019/20 engagement process (slides and discussion questions results).
Submitted project proposals to the City's Capital Improvements Budget (CIB) Committee for investments in three libraries: Hamline Midway, Hayden Heights, and Riverview. Hamline Midway submitted as request for investment in one of two options – renovation plus expansion or new building – with additional community process to inform direction.
CIB Committee collected input via online survey and public hearing.
CIB Committee submitted their 2022/23 funding recommendations to Mayor Carter, which included Hamline Midway Library.
Proposals for Hayden Heights and Riverview renovations, and library technology investments, included in Senator Smith and Senator Klobuchar's Congressionally Directed Spending requests.
August: Mayor Carter proposed $8.1 million investment to transform the Hamline Midway Library in his 2022 Budget Address.
August: City released RFP for consultant to support community-informed schematic design work

, opens a new window

for all three priority library locations: Hamline Midway, Hayden Heights, and Riverview.
September: Began next phase of community engagement to develop community-informed schematic designs for all three priority locations.
September-December: Youth engagement process led by Youth Leadership Initiative. Neighborhood engagement process led by Hamline Midway Coalition.
December: LSE Architects selected and announced as design partner.
December: Truth in Taxation Public Hearing before City Council.
December: City Council adopts 2022 city budget and capital budget, including $8.1M investment to transform Hamline Midway Library
Work with The Friends and City of Saint Paul partners on capital fundraising strategy.
2022 and Beyond
February-September: LSE led community engagement to develop community informed schematic designs for all three priority libraries. Hamline Midway community engagement process invites community to inform direction: new building or renovation plus expansion at current site.
Develop construction documents and begin construction of any projects (Hamline Midway, Hayden Heights, and/or Riverview) funded through 2022/23 CIB process or other.
Continue to seek public and private funding for the priority projects outlined in the case statement.