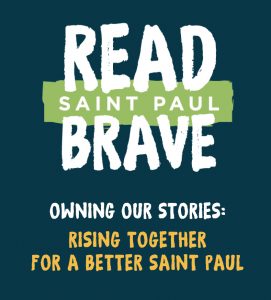 Read Brave is Saint Paul Public Library's annual citywide reading initiative to build awareness and empathy on critical topics through books and book-based experiences. Read Brave aims to inspire Saint Paul residents of all ages to feel more connected to their community and empowered to take action on important issues.
The 2021 Read Brave theme is: Owning our Stories: Rising Together for a Better Saint Paul. Like the primary book selection, The Stars and the Blackness Between Them, does in its themes, please join us as we center conversations around self-worth, racial healing, reconciliation, liberation, and accountability.
Get the latest Read Brave news: sign up for e-news.
The Stars and the Blackness Between Them
by Junauda Petrus-Nasah
Told in two voices, sixteen-year-old Audre and Mabel, both young women of color from different backgrounds, fall in love and figure out how to care for each other as one of them faces a fatal illness.
Children of the Land: A Memoir
by Marcelo Hernandez Castillo
With beauty, grace, and honesty, Castillo recounts his and his family encounters with a system that treats them as criminals for seeking safe, ordinary lives.
Discuss the books. Dig into themes, characters, and your own personal story.
Spark conversation. Use our discussion guide in conversations with your friends, colleagues, neighbors, and family.
Book clubs. Suggest a Read Brave title with your book club or join a book club that is discussing the Read Brave titles.
Join the larger conversation. Share your thoughts on the story, parts of your own personal story, or Read Brave experiences on social media using the hashtag #readbrave.
Share with other library patrons. Review or add comments to the books on the Library's online catalog.
SHARE YOUR STORY AND TAKE ACTION
Stories have power. They allow us to connect more deeply, confront difficult truths, and heal together. Let's listen to one another, especially the voices not often listened to or lifted up.
Pick up a "Share Your Story" postcard at your local library or download one here.
On the blank side, please share with us part of your story in whatever way works for you.
Postcards will be collected and displayed on the Library's website as a way to connect us, heal us, and build a better Saint Paul.
A nonprofit agency that provides immigration legal assistance to low-income immigrants and refugees in Minnesota.
National philanthropic non-profit, providing resources to address inequities and provide urgent healing support to Black people.
Dr. Joi - mediator, coach, community healer and facilitator of liberation - is on a mission to put healing in the hands of anyone, anywhere.
How did you engage with Read Brave? Share your thoughts.
Thank you for being part of Saint Paul Public Library's Read Brave! Please tell us how you engaged with Read Brave so we can continue to improve. Participation in the survey is optional and your answers will remain anonymous.
2021 Read Brave is presented by Saint Paul Public Library in collaboration with the City of Saint Paul, The Friends of the Saint Paul Public Library, Saint Paul Public Schools, and Irreducible Grace Foundation. Read Brave is sponsored by Minnesota Arts & Cultural Heritage Fund and the Saint Paul Saints.