Meeting rooms for community organizations and other groups.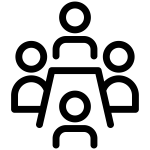 Meeting rooms are available free of charge to non-profit groups. For-profit organizations are subject to a fee.
Please review the Facilities Use Policy and Regulations prior to requesting a meeting space as they outline the Library's stipulations, the user's responsibilities, and any applicable costs.
Meeting rooms are currently available at:

Dayton's Bluff
George Latimer Central Library
Hayden Heights
Highland Park
Merriam Park
Rice Street
Riverview
Rondo Community Library
Saint Anthony Park
Sun Ray

There is no charge to use library meeting rooms for non-profit organizations, government agencies, and school groups.

There is a $50/hour charge plus a $25 reservation fee for for-profit groups.

For more details, please see the Library's Facilities Use Policy.

To request a meeting room, please visit the Meeting Rooms page.

From there, follow the link to the library where you would like to book a meeting room.

Select a date and time, review the terms and conditions and submit your booking request.

Library staff will review your request and contact you if more information is needed. 

When your request is approved, you will receive an email message confirming the reservation.

If the request is denied, you will receive an email message letting you know that the request could not be accommodated.