Learn more about fun and meaningful volunteer opportunities at Saint Paul Public Library.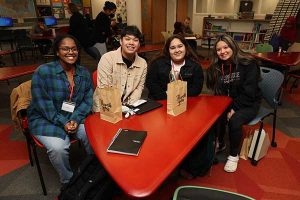 Thank you for your interest in learning more about volunteering with the Saint Paul Public Library.
Volunteers are integral part of the work we do and we have a wide range of opportunities for you to get involved.
Reading mentors, homework tutors, tech assistants, teen mentors, garden helpers, library assistants are a few ways you can support your neighborhood libraries.
We invite you to be a part of our team as we connect, learn, discover and grow with the communities we serve.
Volunteer Services
Email: VolunteerSPPL@ci.stpaul.mn.us
Phone: 651-266-7432
Our volunteer opportunities are listed on VolunteerMatch, opens a new window.
Please create an account on VolunteerMatch to access volunteering positions at Saint Paul Public Library and in the community.
Apply to Be a Library Volunteer
Volunteer Requirements:
Volunteers must be 14 years of age or older.
Complete an on-line volunteer application
Complete a background check
Attend Volunteer Orientation and Training
Please contact us if you have any questions!
Not sure which volunteer opportunity is right for you?
Tell us a little about yourself in an email to volunteerSPPL@ci.stpaul.mn.us and we will contact you to learn about your volunteering interests and skills.
For Volunteer Coordinators