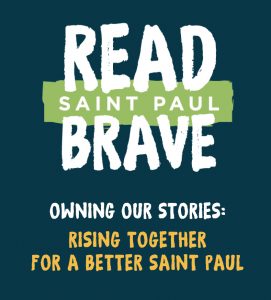 Read Brave uses the power of stories to build awareness and empathy on a theme relevant to our Saint Paul community. Read Brave connects readers of all ages to one another through the five books, their authors, programs, activities, and calls to action.
Stories have power. They allow us to connect more deeply, confront difficult truths, and heal together. Let's elevate the voices in Saint Paul that need to be heard. Let's listen to one another.
Browse art and stories that have been shared with us. Click an image for a larger view.
2021 Read Brave is presented by Saint Paul Public Library in collaboration with the City of Saint Paul, The Friends of the Saint Paul Public Library, Saint Paul Public Schools, and Irreducible Grace Foundation. Read Brave is sponsored by Minnesota Arts & Cultural Heritage Fund and the Saint Paul Saints.