Minnesota, let's read together!
One Book | One Minnesota is a statewide book club that invites Minnesotans of all ages to read a common title and come together virtually to enjoy, reflect, and discuss.
Libraries are essential for connection, and through One Book | One Minnesota, libraries across the state will connect their communities through stories and bring Minnesotans closer together.
One Book: Ninth Chapter
October 17 - December 12, 2022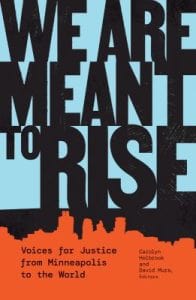 The featured book for Fall 2022 is We Are Meant to Rise: Voices for Justice from Minneapolis to the World, edited by Carolyn Holbrook and David Mura.
About We Are Meant to Rise
In this collection, Indigenous writers and writers of color bear witness to one of the most unsettling years in the history of the United States. Essays and poems vividly reflect and comment on the traumas we endured in 2020, beginning with the arrival of the Covid-19 pandemic crisis, deepened by the blatant murder of George Floyd by Minneapolis police officers and the uprisings that immersed the city into the epicenter of passionate, worldwide demands for justice. In inspired and incisive writing these contributors speak unvarnished truths not only to the original and pernicious racism threaded through the American experience but also to the deeply personal, in essays about family, loss, food culture, economic security, and mental health. Their call and response is united here to rise and be heard.
We Are Meant to Rise lifts up the astonishing variety of BIPOC writers in Minnesota and meets the events of the day, the year, the centuries before, again and again, with powerful testament to the intrinsic and unique value of the human voice.
Panel discussion featuring contributors from "We Are Meant to Rise"

Carolyn Holbrook, Douglas Kearney, Ed Bok Lee, Ricardo Levins Morales, David Mura, & Melissa Olson will take part in a discussion about the collection We Are Meant to Rise: Voices for Justice from Minneapolis to the World.
Wednesday, December 7, 7:00 p.m. CST
Free and open to the public.
One Book | One Minnesota is presented by The Friends of the Saint Paul Public Library, as the Minnesota Center for the Book, in partnership with State Library Services and sponsored by SPIRE Credit Union. Program partners also include Council of Regional Public Library System Administrators; Mackin VIA; Minitex; the Minnesota Department of Education; Recorded Books; and Simon & Schuster. This program is made possible in part by the voters of Minnesota, thanks to a legislative appropriation from the Arts and Cultural Heritage Fund, as well as through a grant from the National Endowment for the Arts.