One Book | One Minnesota is a statewide book club that invites Minnesotans of all ages to read a common title and come together virtually to enjoy, reflect, and discuss.
Libraries are essential for connection, and through One Book | One Minnesota, libraries across the state will connect their communities through stories. The program aims to bring Minnesotans closer together during this time of distance and adversity.
One Book: Seventh Chapter
March 28 - May 15, 2022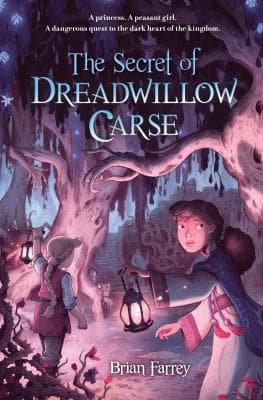 The featured book for spring 2022 is The Secret of Dreadwillow Carse by Minnesota author Brian Farrey.
About The Secret of Dreadwillow Carse
In the center of the verdant Monarchy lies Dreadwillow Carse, a desolate bog the people of the land do their best to ignore. Little is known about it except an ominous warning: If any monarch enters Dreadwillow Carse, then the Monarchy will fall. Twelve-year-old Princess Jeniah yearns to know what the marsh could conceal that might topple her family's thousand-year reign. After a chance meeting, Princess Jeniah strikes a secret deal with Aon, a girl from a nearby village: Aon will explore the Carse on the princess's behalf, and Jeniah will locate Aon's missing father. But when Aon doesn't return from the Carse, a guilt-stricken Jeniah must try and rescue her friend—even if it means risking the entire Monarchy. In this thrilling modern fairytale, Brian Farrey has created an exciting new world where friendship is more powerful than fate and the most important thing is to question everything.
About the Author
Brian Farrey is a two-time winner of the Minnesota Book Award and the 2017 recipient of the McKnight Fellowship in Children's Literature. His debut novel, With or Without You, was named a Stonewall honor book by the American Library Association and won the 2012 Minnesota Book Award for Young People's Literature. The first book in his critically acclaimed middle grade fantasy trilogy (The Vengekeep Prophecies) was named a Junior Library Guild selection, appeared on the Winter 2012-2013 Kids' Indie Next List, and was listed as one of Kirkus Reviews' "Best Children's Books of 2012." The Secret of Dreadwillow Carse won the inaugural Minnesota Book Award for Middle Grade Literature in 2017. His most recent book is The Counterclockwise Heart, released in February of 2022. He lives in the Twin Cities with his husband and their cats.
Virtual Author Discussion
All Minnesotans are invited to participate in a statewide discussion with the author.
Wednesday, May 11, 1:00 p.m.
Free and open to the public. Registration required.

One Book | One Minnesota is presented by The Friends of the Saint Paul Public Library, as the Minnesota Center for the Book, in partnership with State Library Services. Program partners also include Council of Regional Public Library System Administrators, Minitex (a joint program of the University of Minnesota and the Minnesota Office of Higher Education), the Minnesota Department of Education, and Minnesota Historical Society Press.