Innovation Lab Equipment & Software
Workstations, equipment, computer applications, and supplies are available for digitization, cutting, 3D printing, recording, sewing, and more.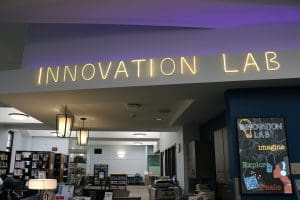 Innovation Lab equipment is available by appointment only.
To schedule an appointment, request online or call 651-266-7000.
Innovation Lab membership is required.
Hours
Tuesdays, 10:30 a.m. - 2:30 p.m.
Wednesdays, 3:30 - 7:30 p.m.
Thursdays, 1:00 - 5:00 p.m.
Fridays, 10:30 a.m. - 2:30 p.m.
Saturdays, 10:30 a.m. - 2:30 p.m.
---
Limits
One appointment per person per day, for up to 4 hours.
Each patron can make 1 appointment every 7 days.
One appointment per equipment station per day.
Patrons cannot make appointments for more than one equipment station in the same day.
Let the staff know in advance if you are bringing a guest. You will be required to fill out a short form saying you are responsible for them during your appointment.
---
Supplies
There will be no supplies for purchase. A limited supply of materials will be available for free.