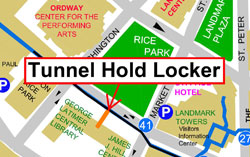 Hold lockers are available in the RiverCentre Connection tunnel at the George Latimer Central Library.
The RiverCentre Connection tunnel runs below 4th Street in front of the library.
You can have your requested library items held for you in a locker and use your library card number to open the door to the locker holding your items.
Request Items Online
Search for items in the library catalog, opens a new window.
Place hold requests item, choosing "Tunnel Hold Locker Central" as your pickup location.
Get Notified When Your Items are Available
We will email or call you when your items are ready to be picked up.
Items are checked out to you at the time they are placed in the locker.
Pick Up Your Items
To pick up your requested items, go to the kiosk at the locker station and follow the instructions on the screen.
Swipe your library card through the reader or enter the last 7 digits of your library card number on the keypad.
The door to the locker with your items will pop open.
Your items are already checked out, so all you need to do is take them out of the locker and shut the door.
Please call the library at 651-266-7000 with any questions.