Receive notifications about holds, items due soon, and overdue items.
When you have items on hold that are ready for you to pick up.
Three days before your items are due back to the library
When your items are overdue.
Email notifications  from the library apply to physical items only. All e-book and e-audiobook notices are sent by OverDrive or are available in the Libby app. Text Alerts Currently Unavailable
Text alerts are currently not being sent.
Sign up and set your preferences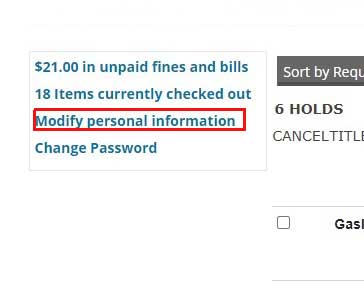 3 - In the pop-up window that opens, you can:
Choose to receive library notices by telephone or email.
Update your telephone number or email address.
Set your preferred library for holds pickup.
Enter or update your information and click Submit to save your preferences.