Download the Libby App
Download the Libby app, opens a new window for your iOS (10+) or Android (5.0+) device.
, opens a new window       
, opens a new window
Or, use Libby in your web browser at libbyapp.com, opens a new window.
To look up your library by name or location tap I'll Search For A Library.
The app can also help you by "guessing" your library, based on your location. If you want to give this a try, tap Yes, Guess My Library.
The library you want to add is called MELSA: Twin Cities Metro eLibrary.
Searching for the word "melsa" should find this library for you.
Searching by a Twin Cities metro area ZIP code or using the "Guess My Library" option will likely work, too.
Once the app has found the Twin Cities Metro eLibrary, tap the box listing it to add this library to Your Libraries in the app.
The next step will be to sign in through the library where you use your card.
Tap Choose A Location to proceed.
The location you want to add is Saint Paul Public Library.
Scroll through the other metro area libraries listed and then tap the line for Saint Paul Public Library.
If you choose a different location from this list, you will sign in through that library system (your card must be registered in that library system if you want to use that location in Libby).
Enter your library card number and then tap Sign In.
If you have problems signing in, please contact the library for assistance.
(Reasons you may not be able to sign in include: expired library card registration or fees owed to the library. Staff can help determine the cause and assist with troubleshooting.)
You are signed in!
You will see an image of your card, including information about current loans and holds on the card.
If you like, you can rename the card.
Renaming your card will be helpful if you share devices with other family members or if you also use your card with other library systems.
To give your card a more distinctive name, tap Rename Card.
Enter the library card name and then click Save.
(You can always change the name of the card at a later time.)
You are now signed in with your library card!
You are ready to check out e-books, e-audiobooks, and e-magazines from the library.
Tap the Search icon and then enter keywords, a title, or an author's name to search the collection.
Tap the Shelf icon to see your Loans and Holds.
Under the menu you will find:
Messages about holds and returns
Your Libraries
A link to see your library cards (and add new cards)
A link to add another library (you will only need this if you use a library that is not part of the Twin Cities Metro eLibrary collection)
Help and Support
Enter your card information to sign in.
Rename the card so you can keep it distinct from the first card.
The new card will be automatically made the "active" card.
"Active" means that loans and hold will made under the selected card.
Tap the Activate button on a card to make it "active".
You can add cards you use at other library systems in the Twin Cities Metro eLibrary.
Follow the same process to add another card:
Tap See Library Cards.
Tap Add Another Card.
Choose the library you use the card at from the Locations menu.
Enter your card credentials (please note, the password or PIN you use at another library system may differ from what you use in the Saint Paul system even if the card number is the same).
Rename the card to make it identifiable to yourself.
---
Other library systems that are part of the Twin Cities Metro eLibrary include Anoka County, Carver County, Dakota County, Hennepin County, Ramsey County, Scott County, and Washington County.
Add cards for:
people who share an e-reading device
other metro area library systems you use
To swap between which cards are active, visit the Libby menu and then tap See Library Cards under Twin Cities Metro eLibrary.
Tap Activate for the card you want to make active.
Loans and Holds for all cards will show up on the Shelf.
Tap Hide to close the Libby menu.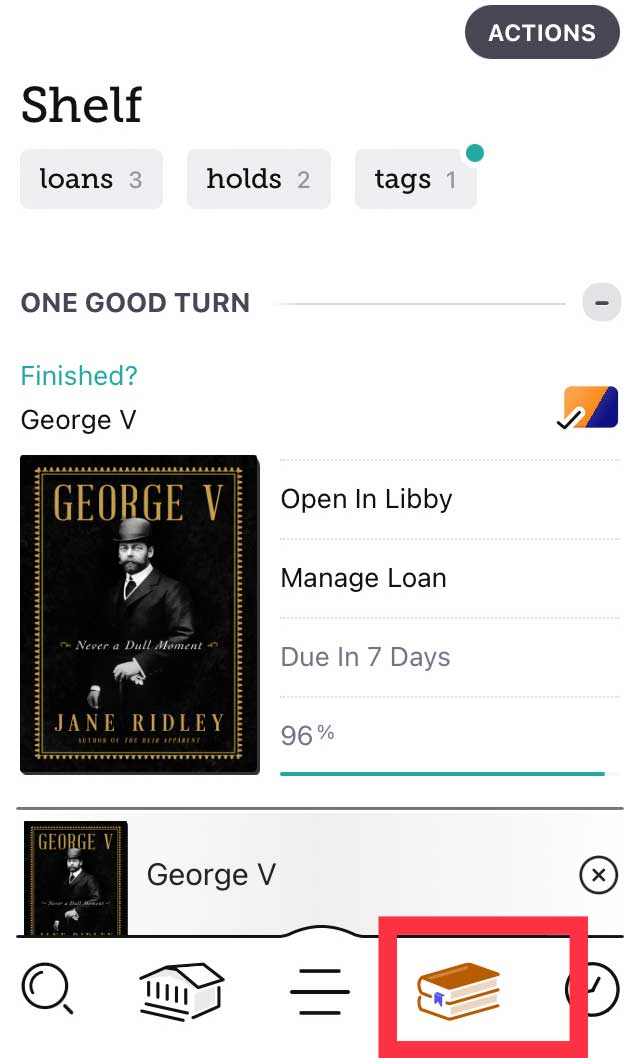 Tap the Shelf icon at the bottom of the screen to see your Loans and Holds, as well as any Tags you have used.
Loans
See items that are currently checked out in the app, along with due dates, and book progress.
Tap Manage Loan to:
Return Early
Choose how to read a title
Renew items
See Title Details, ratings, and more.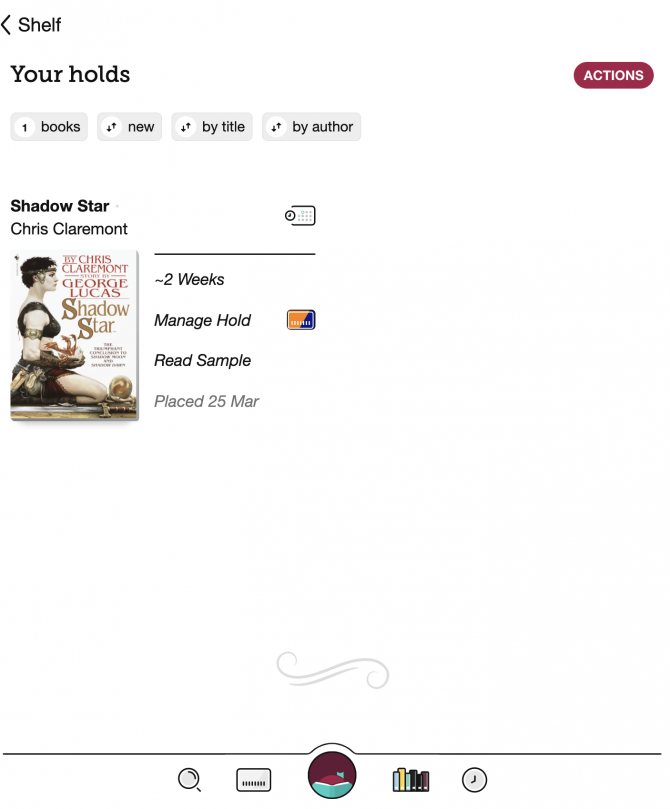 Holds
See items that are currently on hold.
Other details include estimated wait time and samples for many items.