Reading/Discussion Questions
How to Read a Graphic Novel
This year's main Read Brave Book is a graphic novel.
If you have not read graphic novels before you may be wondering how to read them.
Let this video guide serve as your introduction to reading graphic novels.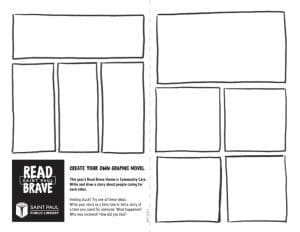 Create Your Own Graphic Novel!
This year's Read Brave theme is Community Care. Write and draw a story about people caring for each other.
Feeling stuck? Try one of these ideas:
Write your story as a fairy tale or tell a story of a time you cared for someone. What happened? Who was involved? How did you feel?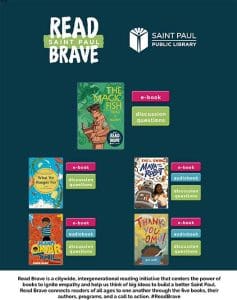 Interactive Online Poster for iPads / Schoology
Quick links to Read Brave e-books, online audiobooks, and discussion questions.
#readbrave #communitycare
Participant and Faciltator Survey
Questions about Read Brave?
Get in touch with the Read Brave Team using the form below with any questions you have about Read Brave books, events, or patnerships.