Text Alerts and Email Notifications
Receive notifications about holds, items due soon, and overdue items by email and/or text message.
When you have items on hold that are ready for you to pick up.
Three days before your items are due back to the library
When your items are overdue.
Email notifications and text alerts from the library apply to physical items only. All e-book and e-audiobook notices are sent by OverDrive or are available in the Libby app.
Sign up and set your preferences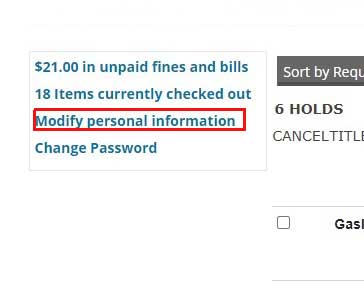 3 - In the pop-up window that opens, you can:
Choose to receive library notices by telephone or email.
Update your telephone number or email address.
Set your preferred library for holds pickup.
Opt in to text message alerts.
Enter or update your information and click Submit to save your preferences.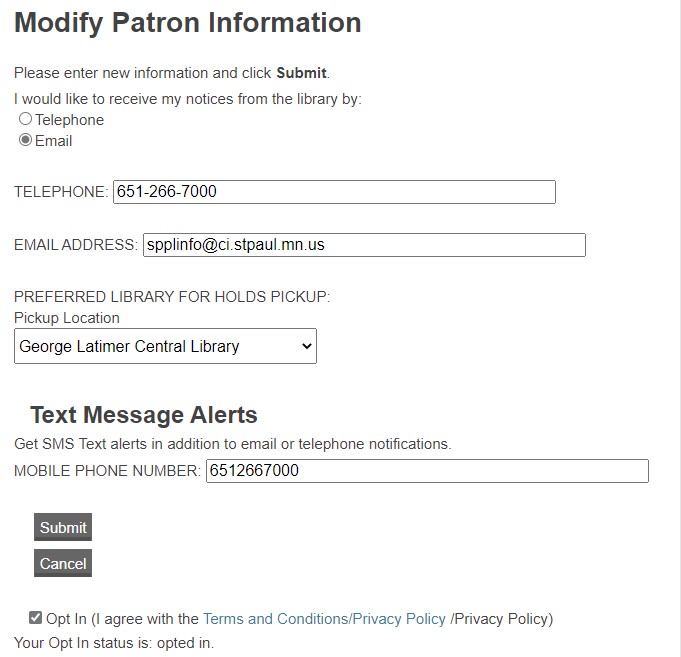 Managing Text Message Alerts
Short Code Information
All SPPL text message alerts originate from short codes 82453 or 35143.
Service/Help info
To get help, email us at spplinfo@ci.stpaul.mn.us.
You can also request our contact information from your mobile phone at any time by sending a text message with the word HELP to 82453 or 35143
Opt In/Opt-Out info
Opt in to receive text alerts using the steps described above (library staff cannot opt you into text alerts).
To opt out, send a text message with the word STOP, STOP ALL, END, QUIT, CANCEL or UNSUBSCRIBE to 82453 or 35143 from your mobile phone to be unsubscribed from the service.
You may also opt out by logging into your patron record and updating your patron record. Follow the information under "Sign Up and Set Your Preferences," above.
Email and Text Notification FAQs