Hosting a community event? Check out a free Pop Up kit, and make your event a success!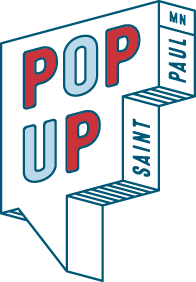 If your organization is hosting a meeting or community gathering, Pop Up Saint Paul might just have the kit to help you make your event a success.
These kits are available to check out from Arlington Hills Library, Riverview Library, or Rondo Community Library.
Call or stop in at one of these three libraries to reserve the date you need the kit up to 60 days in advance.
You must have your valid Saint Paul Public Library card with you to check out a kit.
The loan period is one week.
Kits cannot be renewed.
Kits must be returned to a staff person at the location where they were checked out a minimum of 1 hour prior to closing.
You must be at least 18 years old and a current resident of Saint Paul.
You must fill out a loan agreement before checking out a kit.
You are limited to checking out two kits at one time.
You must return all items on time and in good condition in order to borrow Pop Up kits in the future.
The use of any Pop Up kit is not an endorsement by Saint Paul Public Library.