Aprenda inglés y más en su tiempo libre. ¡Gratis!
Con Cell-Ed, su teléfono celular se convierte en su maestra.
Estudie por teléfono a la hora que sea, 24 horas del día, los 7 días de la semana con lecciones de entre 3 a 5 minutos.
Complete programas de entre 5 a 20 horas y obtenga certificados.
Reciba apoyo de un coach de Cell-Ed cuando necesite ayuda.
Se recomienda el uso de audífonos.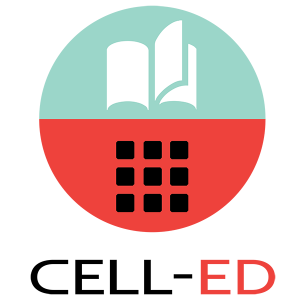 Para Comenzar:
Opción 1: Descargue la aplicación 
Si utiliza la aplicación Cell-Ed, necesitará datos ilimitados o WiFi/Internet disponible.
Opción 2: Llame a Cell-Ed
Llame al 818-423-5533
Código PIN: 6114
Si llama, necesitará minutos y mensajes de texto ilimitados para usar Cell-Ed. No se requiere internet o un teléfono "smart".
Opción 3: Computadora
Necesitarás una computadora o tableta con acceso a internet.
Opción 4: WhatsApp
Cursos de Cell-Ed:
English on the Go
Escoja de entre 6 niveles de inglés de nivel básico a avanzado.
Civics and Citizenship
Aprenda cómo realizar una solicitud para el examen de naturalización y aprobarlo (cursos en inglés).
Work Ready
Obtenga las destrezas clave para el trabajo, tales como la solicitud de empleo y la comunicación profesional (cursos en inglés).
Skill Builder
Mejore su nivel de lectura, escritura, los estudios sociales y matemáticas (cursos en inglés).