"A Black Man's Sketch" Podcast
Available February 1 - 28, 2023
Available everywhere you listen to podcasts.
Featuring Ujamaa Men and community leaders honoring Civil Rights leaders.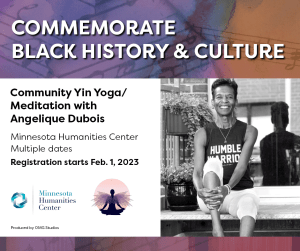 Community Yin Yoga/Meditation with Angelique Dubois
February 18, 2023, 11:00 a.m. - 12:00 noon
More classes will be added as each class fills, through the end of March.
MN Humanities Center (Retreat Center lower level), 987 Ivy Ave. E., Saint Paul, MN. 55106
Pre-registration required. Limited to 6 per class.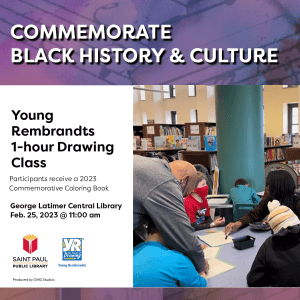 Young Rembrandts Interactive Drawing Class featuring Black History storytelling with Thomasina Petrus
February 25, 2023, 11:00 a.m. - 12:00 noon
George Latimer Central Library, Youth Services
1-hour drawing class with Mr. Parker and Ms. Tines. Pre-register youth 7-12 years old. Space is limited.
Teacher Bios:
Mr. Juan T. Parker 
My appreciation and interest in art came at about the age of five when I began to use color crayons, pencils, and finger-paints. As I got older, I began to draw with pen and ink, oil pastels, color pencils, and pasted chalk and then to paint with acrylics. I attended Hennepin Junior College, transferred to Hennepin Technical School for commercial art, and got an associate degree. I have been commissioned to do several murals and art pieces, and I have participated in art shows and illustrated several children's books. I teach art through St. Paul Community Ed (ages 6-7), Eastside Council at Cambric High Rise, and Young Rembrandts after school. I want my art to inspire plus make a difference in this world.
Ms. Savannah Tines
Savannah Tines' work spans moving image, sculpture, and print-based media. In 2022, Tines graduated with a Bachelor of Fine Arts from the University of Minnesota. She has shown locally at the Katherine E Nash gallery. Tines has held positions as a children's educator, working for an array of after-school art programs, and as a studio assistant. Currently, she works for PAPA, a project space for visual artists in St. Paul. Tines is also working on an exhibition project with a grant from the Minnesota State Arts Board.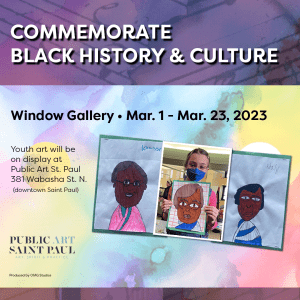 Public Art Saint Paul Window Gallery
March 1 - 23, 2023
381 Wabasha St. N. (downtown St. Paul)
Exhibition of youth portraits of civil rights leaders.
Black History Month Arts & Culture Celebrartion Series: Resistance Is Our Superpower
No related upcoming events.
Resistance to Restoration: Bridging the Past and the Future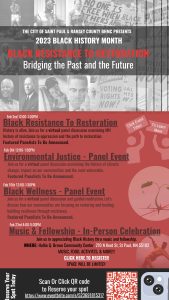 Presented by City of Saint Paul and Ramsey County BHMC
Black Resistance
February 2, 12:00 noon-1:30 p.m. - Register online
History is alive. Join us for a virtual panel discussion examining Minnesota's history of resistance to oppression and the path to restoration.
Environmental Justice
February 9, 12:00 noon - 1:30 p.m. - Register online
Join us for a virtual panel discussion examining the history of climate change, impact on our communities and the most vulnerable.
Restoration & Healing
February 16, 12:00 noon - 1:30 p.m. - Register online
Join us for a virtual panel discussion and guided meditation. Let's discuss how our communities are focusing on restoring and healing and building resilience through resistance.
Music & Fellowship - In-Person Celebration
Rescheduled to March 2, 4:00 - 5:30 p.m. - Register online - Space is limited.
Hallie Q. Brown Community Center, 270 N Kent St.
Join us in appreciating Black History through music and fellowship.
More Black History Month Resources
A brief look at 5 librarians from Saint Paul, some who worked at the Saint Paul Public Library.
Dr. Josie Johnson is a well-known, educator, activist, community organizer and civil rights pioneer with over seven decades of experience.
Films of the past 35 years that celebrate Black history and Black culture, expressing many facets of the Black American experience.