Learn more about fun and meaningful volunteer opportunities at Saint Paul Public Library.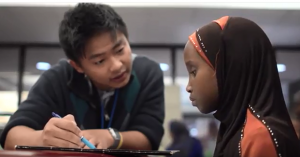 Join X volunteers who donated Y hours to support the Saint Paul Public Library's mission!
Text TK.
Volunteer Opportunities
Our volunteer opportunities are also listed on VolunteerMatch.org, opens a new window. Create an account on VolunteerMatch to access volunteering positions at Saint Paul Public Library and elsewhere in the community.
Volunteermatch embed goes here.
Apply to Be a Library Volunteer
About Volunteering at the Library
Volunteers must be 12 years of age or older.
If you are under age 18, you must have a parent or guardian sign your application.
Volunteers applying to work with youth must agree to a background check.