SPPL has a vision to transform Nicholson Commons on the second floor of George Latimer Central Library into a space that serves as a welcoming, inviting destination for community members who want a comfortable public space to read, work, study, or relax.
SPPL worked with MSR Design to engage community members to create a plan for service, space, and user experience improvements to Nicolson Commons. Through MSR's community engagement, we have identified the following guiding principles:
Welcoming: The Commons will provide a welcoming, accessible, inspiring space for all, that invites curiosity and casual use within its historic formal backdrop.
Empowering: Offerings and amenities will be obvious, user friendly, and encourage use to support you and your needs.
Flexible: You can define your own experiences through a range of spaces that provide openness and privacy, activity and quiet, seating choices, and technology access. The Commons will be comfortable for meeting and interacting with others and for being alone.
Investments in the space will be made over time, funded by the annual endowment dedicated to the library programs, materials, technology, and services in the Nicholson Information Commons by Richard and Nancy Nicholson Endowment.
Report forthcoming.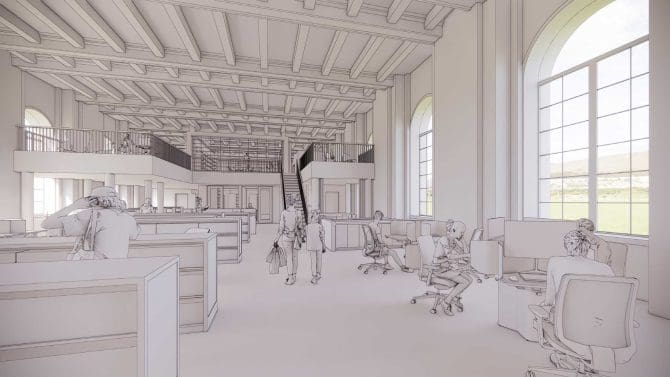 Nicholson Workforce and Innovation Lab
The Innovation Lab—a maker and creative space for artists, small business owners, and novice or experienced hobbyists—on the third floor of George Latimer Central Library provides free access to maker equipment and technology as well as training and a supportive community of other makers.
In 2019, the Innovation Lab received a $125,000 gift from John S. and John L. Knight Foundation to support the programs, technology, and services that connect adults to new skills, support a creative community, and build a vibrant downtown. A plan was developed to improve technology, build staff capacity, and bring public art to the space by the end of 2020. However, due to the COVID-19 pandemic, the project was paused until Spring 2021.
We have been committed to centering community and engaging Innovation Lab users in co-creating space, programs, and services. We engaged Innovation Lab users for suggestions, pain points, and wish list items via 'wishlist' board, suggestion box, advisory board, and Innovation Lab newsletter. Suggestions helped prioritize equipment and technology upgrades. This engagement helped City Designer Barb Morin develop a design beyond tech improvements. The following improvements were completed from June 2021 – May 2022 from that feedback:
New equipment including a new recording studio pod with improved sounds insulation and air filtration system for better recording quality and creative experience; suite of Macbooks with Adobe Creative Cloud; upgraded 3D printer; and a new photo scanner, slide scanner, and upgraded accessories for digitizing media.
A new media lab within the space with new video and DSLR cameras, lighting, backdrops, lapel mics, and editing tools. The space is regularly used for professional headshot events as well as product shoots, modeling portfolios, and filming magic shows.
Newly installed electrical and data access points in the space to increase flexibility for moving equipment and workstations.
New furniture including height adjustable tables throughout the space, comfortable seating, and additional storage.
Staff trained to facilitate peer learning circles on a variety of tech, maker, and business topics.
In fall 2021, Miko Simmons, a multi-media artist, creative director, and projection designer, was selected as the Innovation Lab public artist through a community process led by Forecast Public Art. Innovation Lab members, community partners and staff participated in the selection process aimed at using public art to create a connection to the space from inside and outside the library and inspire creativity and making. His final piece will be installed in June 2022.