Dates: the last Tuesday of each month
Time: 6:00 - 7:30 p.m.
Get hands-on experience learning a new craft at home or share your knowledge and experience with a group!
Need a little guidance and maybe some supplies to get started? Materials are typically provided in a kit but materials at home may also be used.
Register and get a kit!
Register three weeks in advance and specify a preferred branch for pickup. Kits will be available two weeks prior to class.
Later registrants or those who do not specify a branch can pick up kits at the George Latimer Central Library during Library Express hours.
Kits are not a requirement for participating in Tinker Tuesday. Join us with whatever you have and meet some other creative people!
To support families looking for things to do at home, Tinker Tuesdays are appropriate for adults and school-age children working together.
This program will be online via Google Meet. You will be emailed the link 24 hours before the program.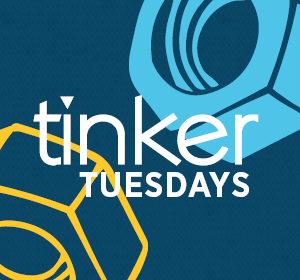 Tinker Tuesdays
No related upcoming events.