Saint Paul residents without reliable internet or devices can borrow Chromebooks and hotspots.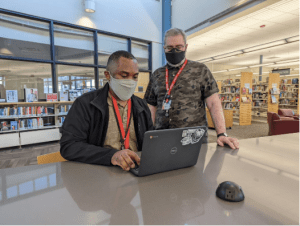 Through grant funding from the ECF (Emergency Connectivity Fund), SPPL will be renewing (up to) 500 hotspots distributed by Digital Navigators, Community Specialists, and SPPL staff between 2021 and 2022, in addition to 100 new hotspots, and 315 internet-enabled Chromebooks.
If you would like more background information on digital equity, please feel free to read the Ramsey County Connectivity Blueprint, opens a new window.
Eligibility
Must live in Saint Paul, MN.
Must be over 18 years old.
Must attest that they do not have reliable internet or devices.
Individuals are limited to one (1) device.

Devices
500 hotspot renewals
Will need to be set to unlimited (must be done manually with the device present and connected to a wireless device).
Can connect to multiple devices
Service will be active through October 31, 2023
100 new hotspots:
Pre-set as unlimited data
Can connect multiple devices
Service will be active through October 31, 2023
Chromebooks:
Cannot act as a hotspot for other devices
Service will be active through December 31, 2023
All Devices are:
On T-Mobile service.
Content filtered due to being public library devices.
Resources for You and Your Device
If you have any questions for library staff, either email us at Digital-Navigators@ci.stpaul.mn.us or call George Latimer Central Library at 651-266-7000.
Additionally, if you need in-person help, please visit Open Lab at Hayden Heights, Rice Street, Rondo, and Sun Ray branches.