October 4 - 8 is Digital Inclusion Week in the City of Saint Paul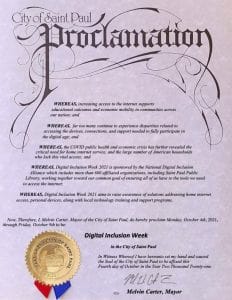 Mayor Melvin Carter has declared Monday, October 4th, 2021, through Friday, October 8th, 2021, as Digital Inclusion Week in the City of Saint Paul to raise awareness of solutions addressing home internet access, personal devices, and local technology training and support programs.
Need help with technology?
Connect with one of the Library's digital navigators for free at 651-266-5838.
Digital navigators work one-on-one with community members, serving as an on-ramp to increased digital inclusion and to improved access to library resources, services, and programs.
Digital Navigators:
Secure reliable internet at home
Access low-cost devices like a laptop, tablet, and smartphone
Provide tech support
Provide referrals to digital literacy and programs that build skills
Build or improve  digital skillsand job training support
Provide referrals to government and community resources
---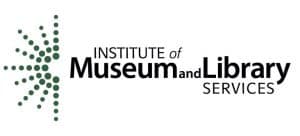 This program is funded by a grant from the Minnesota Department of Education using federal funding from the Institute of Museum and Library Services Grants to States program.
Stay Connected
, opens a new windowThe Emergency Broadband Benefit Program, opens a new window is a temporary FCC Program that provides discounts on broadband service and device for qualified households.
Visit GetEmergencyBroadband.org, opens a new window to learn more about the discounts, eligibility, and how to apply.