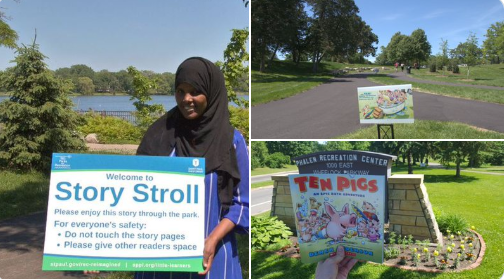 Story Strolls will be available at a variety of parks through Saint Paul and spaced to allow for social distancing.
The Saint Paul Public Library is partnering with the Department of Parks and Recreation to provide oversized storybooks in parks and green spaces across the city to allow families to enjoy reading and get outside!
Visit Story Strolls at Phalen Regional Park and El Rio Vista Recreation Center after Memorial Day.
To make Story Strolls safe for all, please keep at least 6 feet between others enjoying the story. We recommend one family per page at a time.
Even before remote learning, children spent an average of seven hours a day on screens and an average of seven minutes in unstructured outdoor play. The City of Saint Paul encourages young people and families to explore and learn in nature. Time spent in nature improves health and academic outcomes and promotes well-being.